Changelog
[2.4.1] - 21-12-2021
Added
Zoom function for the organization chart Now it is possible to zoom in and out of the organization chart and to move it around the screen with the mouse.
[2.4.0] - 08-12-2021
New Visual: Waterfall Chart
Create a beautiful waterfall chart with subtotals in seconds with our latest addition! A waterfall chart shows a running total as values are added or subtracted. It's useful for understanding how an initial value (for example, net income) is affected by a series of positive and negative values.

3 powerfull ways of creating a waterfall:
1 measure analyses, show the trend of a measure across categories and/or time.
2 measure analyses, show difference between Actual Sales and Budget Sales
N measure analyses, show how a measure is built up from different measures, like Gross Sales -> Net Sales using Measure names / Measure values

Fixed font size config option for all visuals
Optimized the default color palette to align Tableau.
[2.3.1] - 29-11-2021
ADDED
Added zoom functionality to sankey-diagram, now the diagram zoom and drag interaction for a better use experiance

Added zoom reset button on top right and top left corner. The button is visible when hovering over the top corners. If not clicked, the button dissapears in 3 seconds.

Bug fix and Improved positioning of header labels.

Bug fix and improved positioning of lengend position top and bottom.

Improved spacing of lables.
[2.3.0] - 27-09-2021
Config - Improved conditional rendering of settings. Only settings applicable to the selected visualization will be visible in the config panel.
RadarChart Improvements -

A new trigger to dashboard action has been added to the Radar Chart. Now you can click on individual nodes to filter the data.
Previous filter/selection on node groups remains the same. When you click on the area of radar you can select and filter on the node group.
Improved customization of labels. Now you can customize the font size and colour of the axis and labels separately.
[2.2.4] - 22-09-2021
IMPROVED
Code cleanup
Fixed Chord Diagram bug showing incorrect values
Fixed a bug causing double rendering
[2.2.3] - 23-08-2021
FIXED
[2.2.2] - 30-07-2021
Bugfix - Disappearing labels Change/Improvement - Label position
[2.2.1] - 23-07-2021
Bug - sankey color assignment fixed
[2.2.0] - 07-06-2021
ADDED
Dashboard actions allow you to add multiple actions to Sankey Diagrams. Supported actions are: filter actions and parameter actions. Both are supported on nodes as well as on links.
On radar chart, the 'color by' option has been removed. The radar chart will always color to the selected dimension.
When using radar chart with a legend, you can now click an item in the legend to highlight it in the viz.
IMPROVED
When adding new items to the viz using the new color system, colors are automatically assigned instead of being black.
[2.1.2] - 28-05-2021
IMPROVED
Fixed a bug where dimensions were not shown properly for new color system on Radar Chart
Fixed a bug where color legend did not show properly for new color system on Radar Chart
[2.1.1] - 29-04-2021
IMPROVED
When no data is present to display a visualisation (for example, when a filter is excluding all values) the visualisation will not show. Instead, it'll display an informative message.
Bug fixed where headers could appear in the middle of a Sankey diagram.
Improved appearance of legend header and Sankey header.
[2.1.0] - 30-03-2021
ADDED
New color formatting! You now have the option to use a completely renewed color system. Instead of filling a list with colors and have them randomly assigned to dimensions and measures, the new color formatting let's you assign colors to specific members.
New legend options. You now have the ability to show a legend for all visualisations. In addition, a new legend tab in the configuration panel let's you configure the legend to your needs.
Scale legend for Sankey. Instead of the standard color legend, Sankey and Circular Sankey have the option to display a scale legend that shows the value of the scale of the bars and links.
[2.0.3] - 23-03-2021
IMPROVEMENTS
New enterprise and share build process
[2.0.2] - 23-11-2020
IMPROVEMENTS
Improved build process
Sankey Diagram: major improvements to visualising NULL values. You can now include null values and visualize flows from column 1 to column 4 with nulls in columns 2 and 3. Also nodes can now start at different levels and end at different levels. Use the 'Hide Nulls' settings to show or hide null values!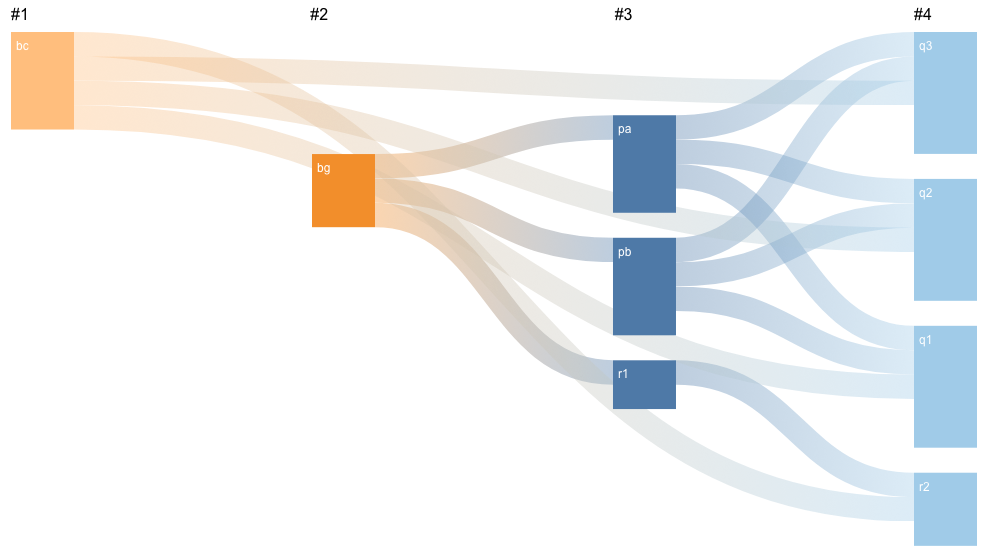 [2.0.1] - 15-09-2020
IMPROVEMENTS
Fix for labels not showing on browsers in certain situations.
[2.0.0] - 29-06-2020
ADDED
Format Measures! You now have more freedom over measure formatting like you are used to in Tableau, choose between Numbers, Percentages, Prefix, Suffix, Display Units and more!

Custom label support! You can now customize labels in visuals the way you are used to in Tableau. Custom labels support free text input & HTML tags. Use HTML tags like: <pre>br, H1, H2, a, img, and more...</pre> This new feature is currently only released for the Sankey Diagrams and will follow in other visuals soon. Please provide feedback!

Font colors for links and nodes

We have added more features to the Sankey Diagrams:

Sankey Diagram Header to show dimension names above the Sankey
Sankey Diagram Node sorting
Sankey Diagram Link sorting
Sankey Diagram support for custom labels!
Enable / Disable individual labels
IMPROVEMENTS
Improved stability of Tooltips.
[1.9.8] - 08-05-2020
IMPROVEMENTS
Added new iteration option for network diagram when animations are disabled. Lowering this value can improve performance drastically.
[1.9.7] - 20-04-2020
IMPROVEMENTS
Several security improvements to the sourcecode. If you experience issues please contact us at support@appsfortableau.com
Changed watermark
Changed trial message
[1.9.6] - 26-03-2020
ADDED
Added support for labels in 'Sunburst New'
[1.9.4] - 31-01-2020
FIXED
Bug with dynamic Radar Chart axis
[1.9.3] - 30-01-2020
ADDED
Added support for fixed dynamic axises.
Added number input for properties.
Added negative number support on axises.
FIXED
Fixed bug SVG export not triggered.
[1.9.2] - 03-12-2019
ADDED
Added changelogs.
Added new default Tableau UI style tabs.
[1.9.0] - 28-10-2019
ADDED
Added sandbox parameters.
Added release date to package.json.
IMPROVEMENTS
Improved UX in configuration.
Changed default font to Arial and added fallback fonts.
[1.8.0] - 01-10-2019
ADDED
You can now choose a font color you like
4 new visuals
Chord Diagram
Ridgeline Plot
Venn Diagram
Circular Sankey Diagram
IMPROVEMENTS
Improvements to visual engine
[1.7.0] - 01-07-2019
IMPROVEMENTS
Unified color usage for fonts in all visualizations
Colors not updating when adding a dark background
You can now use the extension in presentation mode with creator license
[1.6.0] - 01-05-2019
ADDED
Register page in the free version of ShowMeMore
Sorting: You can now sort your nodes on:

Automatic
Node Names (asc)
Node Names (desc)
IMPROVEMENTS
Compatibility issues with IE11 not loading chunks
We are still working on the Circular Sankey, it is getting closer to release.
[1.5.0] - 01-04-2019
We are working on Circular Sankey Diagrams which will be a new visual coming to ShowMeMore! We also allow a different way of data preparation that makes the circular (red strokes) Sankey flow possible.
Data will have to be prepared like this:
[Source] – [Target] – [Measure] A -> B -> 5 B -> C -> 10 B -> A -> 1
ADDED
Sankey Diagram
New color mode: Color By Dimension
Text Wrap: Text will now wrap nicely when labels are enabled and positioned inside the node
Radar Chart
We have added new customization options to the Radar Chart:
Change Tick Marks
Background Opacity (%)
Axis Opacity (%)
Area Opacity (%)
Circles Radius (px)
Stroke width (px)
IMPROVEMENTS
Fixed: no default selected format options
Fixed: Fallback fonts for Mac OSX.
Fixed: Measures not working when changing your Tableau Language on Server or Desktop
We improved the layout of our free Trial.
[1.4.0] - 01-03-2019
This week we introduced a massive update to the Sankey Diagram! The Sankey Diagram is one of the most popular visuals of ShowMeMore and therefore we want to make it even better.
ADDED
IMPROVEMENTS
Links
Improved Coloring methods

Color Links as From -> To Gradient
Color Links based on From
Color Links based on To
No color (light gray)

Link transparancy
Nodes
Change the width of the nodes
Vertical padding of the nodes
Horizontal padding of the nodes
Node transparancy
Toggle Borders
Toggle Labels
Labels position
[1.3.0] - 01-01-2019
ADDED
New Visual: Sunburst 2.0
Last week we made improvements to the Sunburst graph. These improvements did also change the default layout of the current Sunburst graph. Therefore we decided to introduce it as a seperate new visual. Both visuals will be maintained and updated as you are used to.
Tooltips
In this update we enable the feature to edit tooltips! It was the most requested feature since the launch of ShowMeMore and we are very proud to release it now.
Dashboard Actions
We already introduced dashboard actions for the Sankey Diagram and Orgchart. But we are proud to announce that dashboard actions are now working for all visuals of ShowMeMore! Go check it out and create beautiful dashboards with ShowMeMore Dashboard Actions!
IMPROVEMENTS
We added a lot of new features to the orgchart to make it customizable.